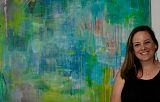 Stephanie Fonteyn
Miami, United States
In Gallery
More artworks by this artist
STYLE
Expressionism, Figurative, Modern
From the artist's "LDN" series, the artist explores and embraces her British roots after 12 years living abroad. The series was dedicated to her belated grandma who a Londoner and proud to witness the beginning of the artist's journey, taking a leap of faith to follow her dream.
Leave a comment
You must register or login
You must be logged in to like or follow. Please register or login to continue.