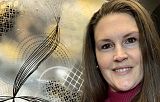 Stephanie Boulet
Saint-Georges, Canada
More artworks by this artist
Certificate of authenticity
Yes
Fais d'acrylique , de peinture en spray , de crayons et d'acrylique fluide . Elle est d'une épaisseur de 1 1/2". Toile que j'affectionne particulièrement puisque la mer me manque terriblement.
Leave a comment
You must register or login
You must be logged in to like or follow. Please register or login to continue.