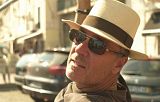 Stef R.
Gragnague, France
More artworks by this artist
A unique piece is a dream that is created after hours and patience. One outcome and one tear at a time. With "Tilia Wave", luminous sculpture made of half slice of linden wood together with brushed steel, I render, in my way, tribute to the surf. I put in the "light" these eddies of the veining traced by those I call "sculptors of the shadow". A unique piece of art & light !
Leave a comment
You must register or login
You must be logged in to like or follow. Please register or login to continue.