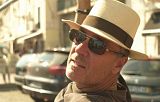 Stef R.
Gragnague, France
More artworks by this artist
The centenary cedar lies on the ground. Devouring patiently from the inside, it collapsed, rendered the soul. The insects, those whom I like to call « sculptors of the shadow» have won. My work begins there… I reveal this incredible eclipse' shape in the open. The eye glides on the soft curves and the play of light, the cedar fragrance intoxicates and the mind calm down. A unique and signed piece of Art
Leave a comment
You must register or login
You must be logged in to like or follow. Please register or login to continue.