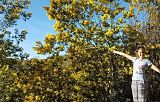 Sophie Sunshine
Marseille, France
More artworks by this artist
J'ai cherché à transcrire l'intensité de l'émotion qu'exprime cette danse, la tension et la grâce du mouvement, en bref de peindre la sensualité dont la retenue fait toute la beauté.
Leave a comment
You must register or login
You must be logged in to like or follow. Please register or login to continue.