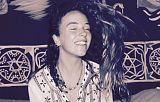 Sophie Caceres Kipfer
Dresden, Germany
More artworks by this artist
The art work is based on three rings and one circle ade of wood, hanging in differents heights. It was winter in germany and i was missing baldy the sun. This was my way to have my own source of energy. The diameter of the biggest ring is 1,5 meters.
Leave a comment
You must register or login
You must be logged in to like or follow. Please register or login to continue.