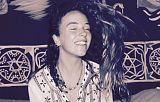 Sophie Caceres Kipfer
Dresden, Germany
More artworks by this artist
This compass focuses that with will ( voluntas is latin for Will) you can go where ever you decide to go. Its playing with the idea of destiny and predestination and how far are we able to create our own way.
Leave a comment
You must register or login
You must be logged in to like or follow. Please register or login to continue.