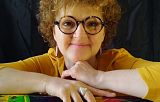 Sonia April
Ville de Québec, Canada
More artworks by this artist
Ce tableau fait partie de la série EXPLOSION DE COULEURS EN MOUVEMENT. Comme tout les tableaux de cette série, je me suis inspiré de deux couleurs intuitives et spontanées proposées par mon entourage.. Le rouge et le orangé. Inspirer d'une image visualisé en méditation, les couleurs inspirent des émotions et un extase de plaisir dans un moment plus sombre de ma vie. Un moment thérapeutique.
Leave a comment
You must register or login
You must be logged in to follow. Please register or login to continue.