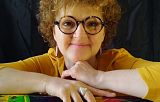 Sonia April
Ville de Québec, Canada
More artworks by this artist
Certificate of authenticity
Yes
Une création transitoire dans mon cheminement de peinture intuitive. Réalisée sur la musique de Bernard Bosa cristal sacré. Je découvrais dans de moment de grande connections entre les sons des bols de cristal, mes ressentis du chakra et la fluidité du mouvement.
Leave a comment
You must register or login
You must be logged in to follow. Please register or login to continue.