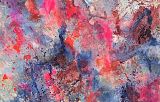 So Arty /Sophie Pariente
Paris, France
In Gallery
More artworks by this artist
MEDIUM
Acrylic, Oil, Others
"JOUR..." Est une série . La transparence de la lumière, de l'eau, du ciel, l'air...de la terre. Les matières premières de la nature, le bruit de l'eau...le chant du vent,la douceur d'un rayon de soleil...
Leave a comment
You must register or login
You must be logged in to like or follow. Please register or login to continue.