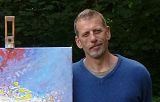 Shaun Herron
Amsterdam, Netherlands
More artworks by this artist
STYLE
Impressionism, Realism
Certificate of authenticity
Yes
A painting of a section of the rooftop of one of Amsterdam's most iconic buildings. In the style of the Amsterdam School (inspired by the Art Nouveau movement) in 1912 architect Van der Mey was appointed by six shipping companies who had joined forces to build a shared head office, intended to exude splendour and strength, from where they can sell tickets for voyages by sea to the Dutch East Indies, Africa and other destinations. This well adorned building is now the 5 star Grand Hotel Amrath.
Leave a comment
You must register or login
You must be logged in to like or follow. Please register or login to continue.