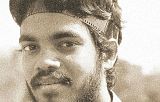 Shashiranjan Prakash
Patna, India
More artworks by this artist
Certificate of authenticity
Yes
In my painting there is a red small leaf lying over a fallen palm tree leaf. Palm tree leaf is dried n dead while red soft leaf is fresh and beautiful,making the composition complete and balance by creating a contrast.
Leave a comment
You must register or login
You must be logged in to like or follow. Please register or login to continue.