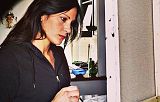 Serena Bona
Pescia, Italy
More artworks by this artist
Certificate of authenticity
No
The heart: the house of our emotions that, sometimes ,we have to feel like someone have to take it away from us but,the harsh truth is that we allowed it ourselves. I felt this thing, this pain, this kind of emotions, so i chose to take out by painting it !
Leave a comment
You must register or login
You must be logged in to like or follow. Please register or login to continue.