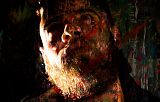 Sebasfixiarte Vélez Baena
Medellín, Colombia
More artworks by this artist
STYLE
Expressionism, Street Art
Certificate of authenticity
Yes
Spray painting, acrylic and mixture on canvas without board of 143x186 cm. Abstract mandrill. Pintura en spray, acrilico y mistura sobre tela de 143 x 186 cm. Mandril abstracto.
Leave a comment
You must register or login
You must be logged in to like or follow. Please register or login to continue.