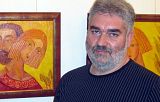 Sasho Kambourov
Pleven, Bulgaria
More artworks by this artist
My work is directed to the fantastic myth-folklore world of the Bulgarians. My colouring is inspired of multi-coloured nature and Orpheus land. The pictorial construction is in richly shaded and harmonious tones suggesting warmth and expressiveness. The deformation is intentional and leads to a naive manner subordinate to the irrational.
Leave a comment
You must register or login
You must be logged in to like or follow. Please register or login to continue.