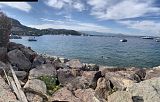 Sarah Sarkissian
Clamart, France
More artworks by this artist
Certificate of authenticity
No
Construire un monde nouveau avec de l'art abstrait. Ce tableau à été réalisé proche du pont d'Alma à Paris Le pont de l'Alma est situé à proximité du tunnel où la princesse de Galles, Lady Diana a été blessée mortellement le 31 août 1997. Ce tunnel, souvent appelé « tunnel du pont de l'Alma », se trouve en fait entre le pont et la place de l'Alma. Au surplomb de ce tunnel se dresse la Flamme de la Liberté, réplique grandeur réelle de la flamme de la Statue de la Liberté. Cette oeuvre reprend ideologie de Liberté, de démocratie à travers une multitude de couleurs dans un monde en pleine mouvance.
Leave a comment
You must register or login
You must be logged in to like or follow. Please register or login to continue.