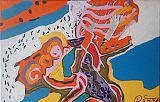 SAFAA BERRA
Casablanca, Maroc
More artworks by this artist
Certificate of authenticity
No
Cette toile montre madame culture, vieille, laide, forte, dormante en chacun de nous, et qui peut facilement éloigner deux amants et surgir à l'improviste comme le ferait un volcan dont on ne peut compter les dégâts. Madame culture aussi riche parait elle peut détruire le bonheur de deux êtres par sa présence imposante et sans pitiés faisant appel encore une fois aux traditions fossilisées.
Leave a comment
You must register or login
You must be logged in to like or follow. Please register or login to continue.