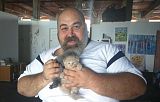 Ruslan Khais
Philadelphia, United States
More artworks by this artist
STYLE
Expressionism, Pop Art, Street Art
Certificate of authenticity
Yes
Original acrylic and spray paint on canvas painting, stretched on wooden frame. Inspired by the impact of the Coronavirus pandemic on everyday life. What is the new normal? What is Real? What is Surreal? Spray paint, hand lettering, 3D liners, pallet knives- everything was used. Very complex and eclectic painting. Influenced by JM Basquiat, Urban Art and artists of Leipzig School. The master-quality material has been used. Edges of the painting are covered with archival white linen tape for a clean contemporary look. No need for framing. It is ready to hang. Signed on the back. A Certificate of Authenticity is included.
Leave a comment
You must register or login
You must be logged in to like or follow. Please register or login to continue.