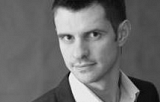 More artworks by this artist
Certificate of authenticity
Yes
Absolute Photography. 2014. From the project 'Absolute Photography'. Limited edition photography of 3. Signed and numbered on the front. Certificate of authenticity. It's the real photography, free of filters and proceeding in graphics editor. Image and paper size: 35x35 inch, 90x90 cm. You can also get this work in different dimensions, canvas. Available unframed, shipped rolled in tube. Print is packed with the utmost care, shipped insured, and guaranteed to arrive undamaged.
Leave a comment
You must register or login
You must be logged in to follow. Please register or login to continue.