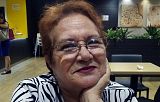 Rosa María Brenes
Zaragoza, Spain
More artworks by this artist
This paint is inspired in all those women of Central America who works in the country side. On this, I've painted a nicaraguan peasant young woman who is selecting coffee beans. I love the serenity of her face meanwhile she picks the best seeds to be toasted and become an steamy and delicious cup of coffee. Esta pintura está inspirada en todas esas mujeres centroamericanas que trabajan en el campo. En este cuadro he pintado a una campesina nicaraguense que selecciona granos de café. Me encanta la serenidad de su rostro mientras escoge los mejores granos para ser tostados y que se convertirán en una humeante y deliciosa taza de café.
Leave a comment
You must register or login
You must be logged in to like or follow. Please register or login to continue.