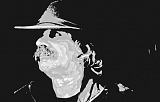 Roland-Henrich Gotschik
Esslingen, Germany
More artworks by this artist
Certificate of authenticity
Yes
This is an acrylic painting combined with oil on a gesso structure with chalk or marble powder, made with a brush, knife and spatula. It's original, unique, signed by the author on the back! The painting is very well protected with high quality varnish and has the edges painted in black, so it can be exposed without additional frame! Stylish paintings and similar themes are already in collections in the USA, Spain, Portugal, France, Italy, UK, Belgium, Holland, Poland, Germany and Switzerland.
Leave a comment
You must register or login
You must be logged in to follow. Please register or login to continue.