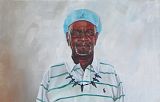 Robert W Dunlap
Pueblo West, United States
More artworks by this artist
Internationally recognized artist, RB McGrath, painted this portrait of me in 2013. Original painting is not for sale. It is now on exhibit at the RB McGrath Atelier et Galarie in Jacksonville, AR, as part of the exhibit entitled "SHIFT - A Paradign of Masters of the Arts."
Leave a comment
You must register or login
You must be logged in to like or follow. Please register or login to continue.