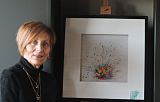 Rita Vandenherrewegen
Namur, Belgique
In Gallery
More artworks by this artist
Décoration pour les fêtes. Elles illumineront vos tables de fête ainsi que votre sapin. Voici " goutte d'amour " dimension : 10 cm Prix 4 euros pièce. Chaque pièce est unique et est faite de façon artisanale. Divers coloris. Envoi possible en EUROPE moyennant un supplément.
Leave a comment
You must register or login
You must be logged in to follow. Please register or login to continue.