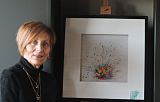 Rita Vandenherrewegen
Namur, Belgique
In Gallery
More artworks by this artist
Certificate of authenticity
Yes
Décoration de Noël en plexiglas. Collection coeur flocon . 10 différents disponibles. Pour décorer votre sapin et vos tables de fête. Ils s'ouvrent en deux , vous pouvez donc y glisser un petit Présent ou douceurs sucrées pour vos invités. Chaque pièce est unique et faite main. On peut les suspendre. Prix des coeurs à la pièce 5 euros. Envoi ( via la poste ) possible moyennant un supplément . Envoi dispo dès le 20 décembre.
Leave a comment
You must register or login
You must be logged in to follow. Please register or login to continue.