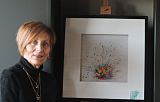 Rita Vandenherrewegen
Namur, Belgique
In Gallery
More artworks by this artist
Certificate of authenticity
Yes
Décorations pour les fêtes. Ces petits coeurs illumineront vos tables de fêtes et votre sapin. Ces décorations peuvent être suspendues ou posées sur un plateau ou en cadeau pour vos invités. Les coeurs s'ouvrent en deux vous pouvez donc y glisser une petite friandise, un mot .... Envoi possible via la poste et moyennant un supplément. Prix : 4 euros la pièce 8 cm de diamètre D'autres coloris disponibles.
Leave a comment
You must register or login
You must be logged in to follow. Please register or login to continue.