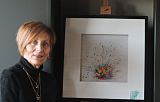 Rita Vandenherrewegen
Namur, Belgique
In Gallery
More artworks by this artist
Certificate of authenticity
Yes
Cartes faites à la main. Peinture sur plexiglas. Divers modèles et coloris disponibles ( 10 de dispo) Collection " Petits lutins coquins " Vendues avec enveloppe. Chaque modèle est unique et fait à la main ; Prix à l'unité : 5 euros. Envoi possible via la poste moyennant un supplément. Envoi disponible dès le 20 décembre.
Leave a comment
You must register or login
You must be logged in to follow. Please register or login to continue.