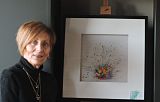 Rita Vandenherrewegen
Namur, Belgique
In Gallery
More artworks by this artist
Peinture sur plexiglas. Utilisation de couleur acrylique et porcelaine Dimension en cm : 50 cm x 50 cm Encadrement caisse 3 D Prix en euros livraison non comprise.
Leave a comment
You must register or login
You must be logged in to like or follow. Please register or login to continue.