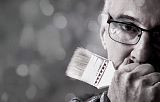 Richard Lalonde
Montréal, Canada
More artworks by this artist
STYLE
Abstract, Contemporary Art
MEDIUM
Acrylic, Mixed media
Certificate of authenticity
Yes
acrylic / mixed media on birch wood panel. Optional floating wood ash frame, available. / Acrylique sur panneau de bois, Encadrement 'Floating frame' en bois de frêne disponible en option.
Leave a comment
You must register or login
You must be logged in to like or follow. Please register or login to continue.