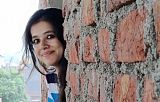 Richa pamnani
Delhi, India
More artworks by this artist
STYLE
Expressionism, Fauvism, Impressionism
Certificate of authenticity
Yes
"I love night lights. They mesmerise me always. It feels like thousands of stars dancing on earth. Our very own earth. It makes me very proud thinking that these stars cannot be seen from every planet. Something special is here, no doubt. I think....As I become a part of the dancing stars".
Leave a comment
You must register or login
You must be logged in to like or follow. Please register or login to continue.