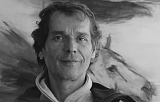 Ricardo Valbuena
Bogotá, Colombia
More artworks by this artist
STYLE
Abstract, Contemporary Art, Fine Art, Realism
Certificate of authenticity
Yes
This drawing is part of the series Introspection, where I am searching for a presence that evokes a state of consciousness. Some of the faces in this series have the eyes closed, which is an invitation to look within. I want the faces to portray a state of being rather than to refer to a particular person. The drawing is very lose and gestural, so as to bring it to life.
Leave a comment
You must register or login
You must be logged in to like or follow. Please register or login to continue.