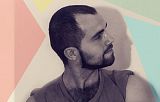 Rémy Glenat
Saint-Romans, France
More artworks by this artist
Certificate of authenticity
Yes
" Ange" L'interprétation de l'inexplicable vie, a travers le travail de l'huile, et des couleurs. 2 rouge pour 2 Colères, 2 Bleu pour 2 Rèves, 2 vert pour 2 l'abondance, et 1 jaune pour la Naissance.
Leave a comment
You must register or login
You must be logged in to like or follow. Please register or login to continue.