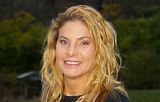 Rebecca Manns
Camden, United States
More artworks by this artist
STYLE
Abstract, Contemporary Art, Impressionism
Cool shade in an Autumn scene is highlighted by the filtered sunlight. I used the contrast of the hot reds ,warm oranges and yellows to pop the cold shades of purples and blues. Done with thick paint brush work to allow for a tactile feel of the scene.
Leave a comment
You must register or login
You must be logged in to follow. Please register or login to continue.