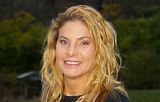 Rebecca Manns
Camden, United States
More artworks by this artist
STYLE
Abstract, Contemporary Art, Expressionism, Impressionism, Minimalism
This 16"x20" landscape oil painting on board is layered in colors, with hues of yellow, gold, brown, blue, grey and purple blending together in the evening sky. Barely visible treetops at the water line.
Leave a comment
You must register or login
You must be logged in to follow. Please register or login to continue.