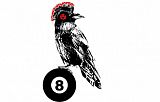 More artworks by this artist
Raven 8 is a inspiration from his darkness who learn to keep is pure light inside is heart to face and fight any evil.
Leave a comment
You must register or login
You must be logged in to like or follow. Please register or login to continue.