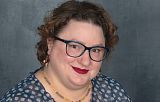 Rachel Galbreath
Youngstown, United States
More artworks by this artist
"Life's Artspeak" will be a study in the nature of over speculating an experience. The over-use of labels such as: critic vs. art, abstract vs. realism, color vs. black and white, etc., will be enacted upon via response to visuality. An embrace- if you will -that encompasses every interpretation as brushstroke, color (or lack thereof), and line, producing an aforementioned phenomenon. Predominant autumnal color usage.
Leave a comment
You must register or login
You must be logged in to like or follow. Please register or login to continue.