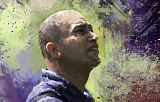 Mahmoud Qoqyan
Lausanne, Suisse
More artworks by this artist
Non à la violence, une œuvre hyper réaliste, réaliser par Qoqyan 2015. Si on veut promouvoir la paix, on doit ranger tous les armes du monde entier, c'est très difficile à réaliser, mais chacun de nous peu le réalisé de sa manière.
Leave a comment
You must register or login
You must be logged in to follow. Please register or login to continue.