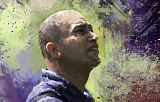 Mahmoud Qoqyan
Lausanne, Suisse
More artworks by this artist
Cette œuvre est une œuvre d'art originale unique - Peinture par Qoqyan (Suisse), Huile sur Toile. L'œuvre est de forme rectangulaire, Ses dimensions sont de 60x30 cm. La signature de l'artiste est présente sur l'œuvre. Cette œuvre fait partie de la galerie Qoqyan. Des options d'encadrement sont disponibles pour cette œuvre, veuillez nous contacter pour plus de détails.
Leave a comment
You must register or login
You must be logged in to follow. Please register or login to continue.