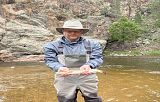 Pete Malmberg
Perry, United States
In Gallery
More artworks by this artist
Certificate of authenticity
Yes
This is a restored miners shack in the city park in Dawson, Iowa. It is the size of a backyard garden shed but housed a large family in the 1880s.
Leave a comment
You must register or login
You must be logged in to follow. Please register or login to continue.