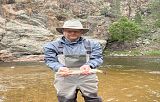 Pete Malmberg
Perry, United States
More artworks by this artist
Certificate of authenticity
Yes
This is a sketch of one of the most significant Community buildings in the United States. The Dexter Community Building in Dexter, Iowa was built in 1916 with major community support, a vanishing icon in small town America.
Leave a comment
You must register or login
You must be logged in to like or follow. Please register or login to continue.