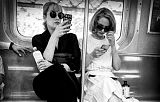 pcagalleryart
Alicante, Espagne
More artworks by this gallery
STYLE
Contemporary Art, Small objects, Other styles
Certificate of authenticity
Yes
ORIGINAL ARTIST
Hélène Yousse
Hélène Yousse - Terres (Pèlerins) 9 - 29x8xH.15 cm TerraCotta Hélène Yousse crée son art avec une allégeance totale, sans concession, par nécessité. Un besoin qui n'admet pas d'abandonner. Ce qui puise son énergie dans le battement d'une plaie ouverte, poussé par l'urgence de dire directement ce qui doit être dit. Que serait sans cette création d'art, la manipulation de la matière? La solitude, la folie, la mort. Le temps n'a pas le temps. Il se trouve dans une relation de tension avec l'observateur. Dans une relation de douleur insupportable. Les premiers figures se sont effondrées. Elles sont présentes. Tellement présentes, pendant qu'elles parlent d'absence. Du vide. D'adieu. De la disparition d'une personne très aimée et de sa douceur inoubliable. Des marionnettes totalement épuisées, pétrifiées, comme fascinées par le moment, là, sans visage, la peau enlevée, écrasée par l'attente. Des femmes en lambeaux, des marionnettes faites d'ordures. Peu à peu, le vide se remplit de ciel. Les silhouettes se balancent dans les airs et laissent la lumière les éclairer. Tourné vers un soleil chaud et jaune. Comme ces Indiens qui se jettent dans le vide en rotation dans la liberté de l'air, bien qu'ils soient attachés les pieds aux cordes, rappellent les strictes contraintes de la gravité. Hélène vit avec ses personnages. Elle parle avec eux. Elle les touche. Elle les caresse. Ils sont en vie.
Leave a comment
You must register or login
You must be logged in to like or follow. Please register or login to continue.