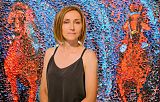 Olga Bezhina
Krasnodar, Russia
More artworks by this artist
STYLE
Abstract, Contemporary Art, Expressionism, Impressionism, Modern
Certificate of authenticity
Yes
The picture was made from nature in Taman, Taman peninsula. The marine theme is not only the classic anchors and images of fish. It could just be a burst of turquoise - as if a wave crawled onto the wall and left its intolerably bright imprint. Settle the sea in your house. And it will become much closer. Absolute uniqueness of technique. Implied is a unique combination of the game with color and work with the material (paint), i.e. Tempo-rhythmic application. With certain lighting, the edges of the oil paint light up, a complex surface with an iridescent color is obtained - this is the most important component of the author's concept.
Leave a comment
You must register or login
You must be logged in to like or follow. Please register or login to continue.