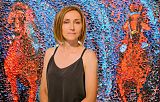 Olga Bezhina
Krasnodar, Russia
More artworks by this artist
STYLE
Abstract, Contemporary Art, Expressionism, Figurative
Certificate of authenticity
Yes
Traveler 179?86 cm, canvas, oil Abstract paintings are a great way to create an intriguing and mysterious atmosphere in your home. Abstract images of shadows, mysterious silhouettes - all this excites imagination and gives inspiration for creative achievements. Such paintings will not only become a successful continuation of the interior, but they can become a real "highlight" of any modern or classical design. Abstract paintings are perfect for romantic and creative natures and will emphasize their original artistic taste.
Leave a comment
You must register or login
You must be logged in to like or follow. Please register or login to continue.