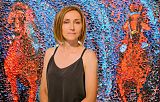 Olga Bezhina
Krasnodar, Russia
More artworks by this artist
STYLE
Abstract, Contemporary Art, Expressionism, Impressionism, Modern
The result of this work is that due to its convexity and of volume, light, rhythm strokes, to them as if there is a movement. On the screen that can not be seen. Every facet elements (strokes) in the picture depending on the light and look at different times of the day is also not the same.
Leave a comment
You must register or login
You must be logged in to like or follow. Please register or login to continue.