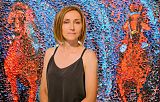 Olga Bezhina
Krasnodar, Russia
More artworks by this artist
STYLE
Abstract, Contemporary Art, Expressionism, Figurative, Impressionism, Modern
Certificate of authenticity
Yes
Painting: Oil on Canvas. Dynamics and speed. The essence is passed beyond form. Hippodrome from the Greek language is translated as a race, a race. During the race, closer to the finish line, when the jockeys on the horses sweep by one by one, you experience strong emotions, splitting the consciousness of the roar, trampling, speeding horses and screams, screams escaping from the jockeys of the tuning horses.
Leave a comment
You must register or login
You must be logged in to like or follow. Please register or login to continue.