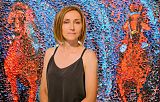 Olga Bezhina
Krasnodar, Russia
More artworks by this artist
STYLE
Abstract, Contemporary Art, Expressionism, Impressionism, Modern
Certificate of authenticity
Yes
In the south, the time of flowering lotus. A flower with an ancient history grows in a pond, which is a real place of power for me.
Leave a comment
You must register or login
You must be logged in to like or follow. Please register or login to continue.