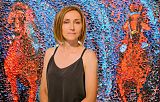 Olga Bezhina
Krasnodar, Russia
More artworks by this artist
STYLE
Abstract, Contemporary Art, Expressionism, Impressionism, Modern
Certificate of authenticity
Yes
The work is written from nature. Krasnodar. In certain lighting illuminate facets of oil paint, it turns out complicated surface with iridescent color - this is the most important part of the author's conception.
Leave a comment
You must register or login
You must be logged in to like or follow. Please register or login to continue.