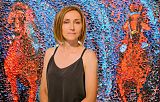 Olga Bezhina
Krasnodar, Russia
More artworks by this artist
Certificate of authenticity
Yes
canvas, oil, 123x74 cm Like many other trends in art, abstraction seeks to convey harmony and beauty, but it does so through the depiction of certain color combinations and geometric forms. The pure expression of the artist gave us a wonderful picture, where in the depicted chaos of colors and lines it's easy to see yourself and everything that is hidden in the depth of your thoughts.
Leave a comment
You must register or login
You must be logged in to like or follow. Please register or login to continue.