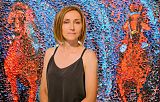 Olga Bezhina
Krasnodar, Russia
More artworks by this artist
STYLE
Abstract, Contemporary Art, Expressionism, Impressionism, Modern
video https://youtu.be/KNqzdwZVrUk the work is written in nature, plein air oil on canvas In addition to plant and animal life on land, at sea and in the mountains of the reserve, there are also ancient territory. Firstly, this ancient settlement Cimmeric - the ancient capital of Cimmeria, which arose from the sixth century BC and lasted until the fourth century AD.
Leave a comment
You must register or login
You must be logged in to like or follow. Please register or login to continue.