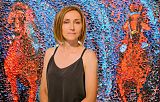 Olga Bezhina
Krasnodar, Russia
More artworks by this artist
STYLE
Abstract, Contemporary Art, Expressionism, Impressionism, Modern
Certificate of authenticity
Yes
The work was done from nature, plein air Krasnodar, near the river Kuban. With the onset of autumn, the water in the river becomes much smaller, a sandy beach opens, along which the residents of the nearest houses take pleasure in walking. canvas, oil, 105x33 cm.
Leave a comment
You must register or login
You must be logged in to like or follow. Please register or login to continue.