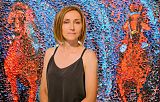 Olga Bezhina
Krasnodar, Russia
More artworks by this artist
STYLE
Abstract, Contemporary Art, Expressionism, Impressionism, Modern
Certificate of authenticity
Yes
Unique author's technology pace and rhythm of painting. With certain lighting, the edges of the oil paint light up, a complex surface with an iridescent color is obtained - this is the most important component of the author's concept. Each face of the elements (smears) of the picture depends on the lighting and looks different at different times of the day, too.
Leave a comment
You must register or login
You must be logged in to like or follow. Please register or login to continue.